Write us!
News: Love from Lola Slug!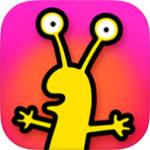 Lola Slug at the Exhibition
Hi, we decided to give Lola Slug at the Exhibition – the highreadability kids app – free allover the world during schools lockdown to help kids carry on reading, playing, smiling. No cost will be charged when schools reopen if you downloaded the app for free.
• For iPhone o iPad: download Lola Slug for free directly on the App Store.
• For Android devices: write to info@lolaslug.com to get a free promo code.